Driving
Using Map Code or Google map is the easiest way to come to Ocean HIlls KOURI.

Map Code 485 692 443 
◎From NAHA Air port  about 110 minutes(Take Okinawa Express Way and Get off at KYODA)
Driving north on National Route 58, turning left (the direction to YAGAJI-Island) at the intersection of Prefectural Route 110. There is a FAMILY MART at the intersection. Crossing KOURI-jima Bridge.
◎From MOTOBU / NAKIJIN
Driving on National Route 505 heading to NAGO city, and turning left at the intersection of Prefectural Route 248. There is  LAWSON. Crossing WRUMI Bridge, and crossing KOURI-jima Bridge by way of YAGAJI-Island.
※ There are no supermarkets in KOURI Island or around YAGAJI Island. There are some supermarkets and convenience stores along National Route 58 and A-coap at NAKIJIN village along Route 505.
◎Direction to our  Hotel After Crossing KOURI Bridge
・Please head for "Kouri OceanTower " Tourist facilities with observation deck and a restaurant.
・You will hit 5 junction and will see advertising boards, and take the paved slope way (it looks like a farmers road) going up to left behind a big board.
       ↓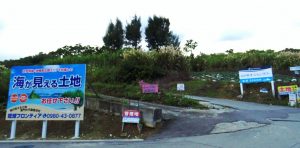 Please go up a little narrow farmers road to the upper left.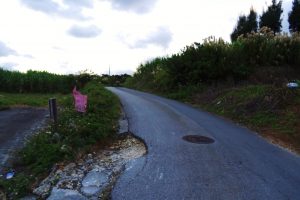 ・Drive along the small road. You will see a white two stories house in front of you.
・The reception is the white two stories house with signboard "Reception" .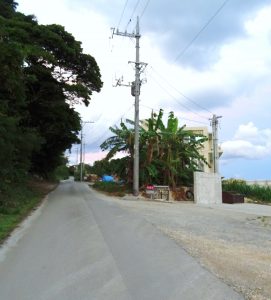 If you could not easily  get  the way to us, please take easy to ask us  by phone or e-mail
If you drive  a rental car, please use Map code. It is the easiest way to come to our hotel.
 Our map code :485 692 443
 or
  Google map is also helpful.

The restaurants around the area are limited and may close early in the evening. Dining options may be difficult to find after 18:00pm in Kouri island.

So we sometimes recommend Customers takeing dinner at the next city  Nago or Nakijin villedge .